There are plenty of amazing bloggers out there and many have written some excellent cookbooks filled with more than just recipes, but also knowledgeable information for how to feed our bodies well. If you are still looking for a last minute gift for a real foodie or you want to introduce someone to a real food diet, consider these cookbooks.
The books I have listed are all printable as e-cookbooks, so if you have a printer at home you have an easy gift in a matter of just a couple of minutes. Katie from
Kitchen Stewardship
also shared the great ideas of giving e-cookbooks on a thumb drive (for the gift that keeps giving) or on a disk (a perfect stocking stuffer).
Click on the title of the cookbooks to go to their website and read a much more thorough overview of what each is about.
~~~~~~~~~~~~~~~~
Modern Alternative Momma
Note: Use code CHRISTMAS35 for 35% your purchase through Christmas Eve.
They also have gift coupons and book bundles.
Real Food Basics
Price:
$6.95
Description:
Pages of explaining the 'what' and 'why' behind
real food, plus recipes like pizza dough, cheese sauce, meatballs,
Healthy Pregnancy Super Foods
Price:
$8.95
Description:
A list of super foods, morning sickness remedies, etc. (not just for pregnancy though). Recipes like chicken marsala, chicken and wild rice soup, salmon with garlic-herb butter, maple-cinnamon granola, beef and liver stew.
Against the Grain
Price:
$7.95
Description:
Totally grain-free recipes, most that are GAPS-
friendly. Spicy marinated beef strips, tomato cream chicken,
salisbury steak, sausage gumbo, etc.
Treat Yourself: Real Food Desserts
Price:
$7.95
Description:
Yummy desserts, with no white
flour or sugar! Almond/sprouted flour, honey, maple syrup, and
sucanat only. Cinnamon rolls, soaked chocolate eclairs, strawberry
ice cream, spice cake, scones, lots more.
~~~~~~~~~~~~~~~~
Just Making Noise
Sound Bites From a Deaf Mama
Just Making Icecream
Price:
On sale for $8, Reg. $12
Note: All of the book sales go to help the Rancho Oasis for Youth: http://www.ro4y.org/
Description:
Love ice cream? Wish you could make ice cream at home, but don't have an ice cream maker? Can't decide what ice cream maker to buy? Have food allergies? Trying to watch your sugar-intake? Want to make something more than just vanilla, chocolate or strawberry? This is the book for you!
113 pages and over 70 recipes to choose through all 4 seasons of the year... who says ice cream is only for the summer?! The book starts off with 25 pages about everything you need to know to make delicious, nourishing frozen desserts.
~~~~~~~~~~~~~~~~
Price: $9.95
Description:
Indulge your sweet tooth but with a bit wiser choices than the rest of the culture is making…30 recipes using unrefined sweeteners, whole, soaked or sprouted grains (many with no grains at all!), and real ingredients like vegetables, fruits and even beans.
Price: $6.95
Description:
People often tell me they go back to
Healthy Snacks to Go
again and again. With over 30 healthy snack recipes including traditional granola bars, iron-packed Popeye bars, and a dozen "larabar" style variations, you won't go hungry when you're on the go. You'll love the recipe adaptations, simple instructions, and best of all, the delicious treats you can make when you join 2500 other purchasers and grab
Healthy Snacks to Go
today! In December 2011, a 2nd edition is coming out — anyone who has the original gets the second, with recipe updates and a bunch of brand new recipes, absolutely FREE!
The Everything Bean Book
Price:
$9.95
Description:
95 pages and 30 recipes to lower your food budget and raise your nutrition at the same time. Twenty pages of…well…
everything
you might want to know about beans, including how to get comfortable with dry beans so you can save even more money (but not spend forever in the kitchen), and even the scoop on addressing bean-related flatulence.
The Family Camping Handbook
Price:
$6.95
Description:
If you've always wanted to try camping as a frugal family vacation but are nervous because you have little ones, whether they're babies, toddlers, or preschoolers, The new
Family Camping Handbook
will show you how to survive and even thrive out in the woods with young children. You can bring your babes and your real food, too!
Kitchen Stewardship in the Big Woods: A Family Camping Handbook with Real Food Options
gives an overview of how to get started camping, what to bring, the proper campin' attitude, and of course, real food adaptations to standard camping fare. You don't need to compromise with hot dogs and white buns just because you're out in the woods with a campfire!
~~~~~~~~~~~~~~~~
GNOWFGLINS
Fundamentals
Price:
$20
Description:
This eBook isn't called "Fundamentals" for nothing. I carefully selected the basic skills in it, and I believe every healthy cook should know how to do them. They each have a purpose in the nutrient-dense diet that keeps us feeling, looking, and doing our best for God and others.
Sourdough From A to Z
Price:
$20
Description
: Learn how to begin your own sourdough starter using different methods from different home cooks, including how to maintain a gluten free starter. Dozens of sourdough recipes using whole grains and even some that are gluten free. If you want to start to learn how to make fermented sourdough at home, this is a great book to start with.
~~~~~~~~~~~~~~~~
Health, Home & Happiness
Grain Free Meal Plans:
Sign Up For Grain Free Meal Plans Here
Price:
$16 a month or $130 a year
Description:
This is a monthly service that puts together grain free meals plans for your use.It includes menu plans for 3 meals a day, 7 days a week, plus snacks and sweets. There is even a shopping list to make it that much easier. Meals are based on the Gut and Psychology Syndrome Diet and Specific Carbohydrate Diet diets. The recipes serve a family of four, but can easily be halved or doubled as needed. Members only forum to discuss going and being Grain Free.


~~~~~~~~~~~~~~~~

Food Renegade
Real Food Nutrition & Health
Price:
$19.95
Description:
The subtitle
almost
says it all. This book is a renegade look at nutrition based on a diet of whole, organic, and local foods grown, prepared, and eaten according to traditional food ways.
At 203 pages,
Real Food Nutrition & Health
offers an in-depth introductory look at Nutrition. The book's also written at a high school (or possibly mature junior high) level, so it's a surprisingly accessible way to teach yourself, your children, and your community the basics of Nutrition.




~~~~~~~~~~~~~~~~

Nourishing Days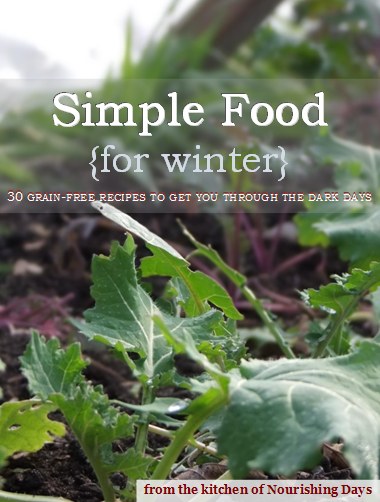 Real Food for Winter
Price:
$10
Description:
Learn how to prepare grain free dishes and make creamy soups without killing all of the healthy enzymes. Prepare and identify the foods our bodies need during the winter and live of homegrown, home preserved foods. These recipes are here to help aid digestion and boost the immune system.
Real Food for Spring
Price:
$10
Description:
80 pages with over 25 grain-free recipes to enjoy. These dishes take advantage of the wonderful foods grown in the spring. Check out the link for this cookbook to see a list of recipes.
~~~~~~~~~~~~~~~~
Keeper of the Home
Real Food on a Real Budget: How to Eat Healthy for Less
Price:
$18.97
Description:
A primer for families who want to learn how to save an average of 20-30% on their food budget, while at the same time serving better quality and more nutritionally dense foods.
Based on 6 years of hands on experience and hundreds of hours of research,
Real Food on a Real Budget
will teach you how to drastically lower your food budget OR significantly increase the quality of the foods that you buy (for the same amount of money).
~~~~~~~~~~~~~~~~
Frugal Granola

Herbal Nurturing: A Family Healing & Learning Guide
Price:
$8.95
Description:
This 44-page book walks you through preparing basic herbal remedies for you and your family, from childbirth to arthritis, and everything in between!
Naturally prepare for cold/flu season, PMS, headaches, sunburns, postpartum, tummy aches, rashes, and more with over 30 recipes, additional homeopathic suggestions, and healthy-living tips.
~~~~~~~~~~~~~~~~
The Nourishing Gourmet
Fresh - Nourishing Salads for All Seasons
Price:
$18.99
Description:
This cookbook was inspired by the idea that food does not have to be complicated to taste good. Furthermore, good food is real food, such as dark greens, bright pineapple, or savory grassfed steak. The recipes in this book were created with everyday needs in mind. Practical, tasty, and simple enough to enjoy on a regular basis, but also full of nourishing, healthy ingredients.
Recipes include old time favorites such as Caesar Salad, a remake of your mother's Jello salad (this time made with real food ingredients), and Taco Salad. These versions include fresh ingredients for a more nourishing and fresh flavored dish. For example, Mexican beef is made without a seasoning packet, fruit gelatin is made without reaching for a box of refined sugars and dyes, and salad dressings are made using pure ingredients, with none of the additives and flavor enhancers found in store-bought. In addition to old classics, there is a wide variety of fruit, grain, legume, potato and green salads.